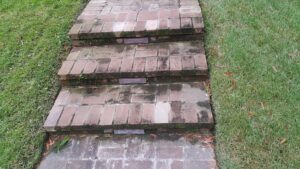 Power Washing in Houston before
Not Just Window Washing Anymore
Yes we as Window Cleaning Company Houston know that we have window cleaning in our name. But just recently we have decided to offer Power Washing Houston.
Next, because we have so many clients asking if we do power washing. Just thinking out loud. We thought it wouldn't be so bad to try it out. Second, we have the capability of doing small homes and jobs that require commercial equipment.
After all, we know that your home is one of the most valuable investments that you have made!  In the meantime, trust the cleaning/washing upkeep of your home's exterior to a professional.
A pro who is skilled in the knowledge and efficiency of doing the job in the most safe and effective manner. So, we are sure that we are those professionals.
However, there is no reason for only your windows to be cleaned. Why make the whole house look amazing.
Third, we came up with this new offer to help the Houston area with their pressure washing needs.  Not withstanding, our pressure washing service is the best. On the other hand, restore and brighten Houston properties. Using washing techniques, soaps and Eco friendly.
How Do We Do It?
Likely, at Power Washing Houston we take so much pride in having the latest wash techniques. This allows us to clean your home in a safer manner than that of the past and outdated techniques.
You may know, we don't believe in using harsh chemicals. What we have learned is it's not good for you as the home or business owner. It's not good for the environment.
Importantly, our soft washing (The process by which eco-friendly soaps are applied at low pressure [50-100 PSI] for the removal of organic stains on any surface while maintaining the integrity of the surface.)  Cleaning your home in a more thorough manner. Eco-friendly solutions attack and kill the mold spores at their roots.
More things
Therefore, keeping it from coming back for a longer period of time. Soft washing, Window Cleaning Company Houston still gets the job done.
Still, soft washing eliminates the presence of high pressure which can cause more damage than cleaning to occur on tender surfaces like stucco/dryvit, hardie siding, vinyl siding, and in some cases, stone and brick.
Let us soft wash your home with our eco-friendly suds and see what a difference it makes!
Let us wash your home or business
​
Wash your lot or driveway
​
Stain your fence
​
Stripe your parking lot!
Our Goals For You
This new feature was established with the specific goal of helping property owners (residential/commercial) protect and preserve their investment from the harsh Houston climate. Live in Houston? Then you know how bad the weather can get. These climates prematurely age the appearance and safety of property.
Don't be like most property owners. That's just money wasted, you need to spend your money wisely with Power Washing Houston.
As a property owner ourselves we realize the importance of keeping up with your property's appearance and look.  Aiming to be the best in the industry, we've exceeded in this by building a profile of repeat clients.
Even more
Overall, don't stress over it. For your peace of mind we practice the importance of safety. Placing importance on getting the job done right the first time. For example, we wouldn't expect payment from you if you weren't pleased. Give Window Cleaning Company Houston a call today at 832-639-3434.  Thus, join most property owners in taking care of their property.
The importance of maintaining a clean driveway is essential for every Homeowner and surrounding communities. The appearance of a driveway has impact on how people view your home and you.
Still The Same People
While the people who clean your windows and the people who power wash your home might be different people. The services are still ran by the same company. That means still same amazing customer service as always.
With that said once a customer agrees upon the price with us we aim to please. Focusing on pleasing the customer and making sure that the job is done right. Have an open line of communication with our customers. Understand the importance of not losing focus of big picture.
We stay on the leading edge of the Power Washing Houston industry. Let Window Cleaning Company Houston take care of your dirty driveway, sidewalk, pool deck, brick and more for you. We offer professional cold and hot water pressure washing services.
Dealing With The Climate
Are tired of Algae, Dirt, and Mildew growing on the side of your home. Especially mildew, is not something you want you or your family to be breathing. It causes great harm to your body.
And you don't need that to deal with right now. Weather and humidity allows for this type of stuff to build and form quicker.
When it rains, your mulch and dirt from your yard creates black stains on it as well. House needs an annual cleaning done once a year. However, we do recommend Power Washing Houston every four months.
Stucco Cleaning

Brick Cleaning

Wood Cleaning

Dirt Removal

Algae Removal

Mildew Removal

Tried and tested
Every cleaning service says they are the best but try us.  What you will get is great customer satisfaction. 
Guarantee service next to none.  Never disappointing those whom we serve. Most of you are still on the fence.  You have never tried us Window Cleaning Company for Power Washing Houston.
Put us to the test and you will see the rest.  Standing behind what we do for over 25+ years.
Those are all things that you won't have to worry about anymore when you choose Window Cleaning Company Houston. House Washing, Driveway Washing, Power Washing, Steam Washing, Commercial Pressure Washing, and free estimates are just some of what we offer for you.  Call today at 832-639-3434.