COMMERCIAL WINDOW CLEANING
COMMERCIAL WINDOW CLEANING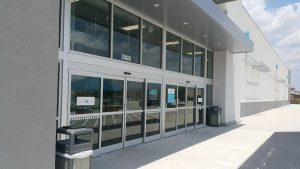 Commercial Window Cleaning
The latest equipment and the best workers we have when it comes to commercial window cleanings. The needs of your company really come to the four when it comes to cleaning your windows. The skills we have cannot be matched by any other company. With Window Cleaning Company Houston we've been doing business for over 20 plus years. The family-owned business is capable of handling your window washing or window cleaning needs. You hire other services to handle difficult tasks for your building. Just think of us when it comes to professional window cleaning for your commercial building. We will be more than happy to come out and give you a free quote. 
We can assist you in this regard by meeting with one of your representatives and taking a look at just what are the details. That's if you will allow us to do what we do best you can't go wrong. It means a lot to us that you even went on the internet and looked and found us. 
No doubt you looked on the internet and searched for window cleaning. You probably ran across one of our articles entitled Commercial Window Cleaning. That's where we come into the picture. 
THIS IS ONE.
This can be a daunting task for you especially when it comes to the many choices. Taking the hassle out of looking for a reputable company you have found just what you are looking for. Mentioning how you found us on the internet is very helpful. This tells us that many of the services that people are looking for we're there to answer the call. 
Likewise, the care that we provide helps you out as a person who has the responsibility of getting your windows clean. Commercial Window Cleaning is a difficult task, one we are sure you don't want to deal with. Not to mention, if you need to get your windows repaired or replaced then this could be expensive and a hassle. 
But with a regular maintenance program when it comes to Commercial Window Cleaning then we have just what you were looking for. Furthermore when the season comes and bad weather arrives what will you do? 
Take a look.
The weather brings on new challenges for your windows and the environment. Sadly these contaminants do arrive on your windows and your commercial building. So the question is who are you going to call when this comes about? When you see algae or mildew and dirt build up that can be very costly when it comes to getting your windows cleaned. 
In like manner, when you use our service on a regular basis in most cases yearly. This can take your anxiety level down another level. 
In the same way, you care for your loved ones and your home. We care for your windows at your commercial building. Most of the time a regular window cleaning for the exterior in itself will be sufficient.
PRICING CAN BE A CHALLENGE.
I am sure when it comes to pricing and getting quotes that in itself overwhelms any building maintenance program. Rest assured the quote that we give you is of the best highest quality on getting Commercial Window Cleaning. 
No need to worry that someone will have an outrageous price when it comes to getting your windows clean. As we mentioned over 20 plus years in the business gives us an advantage when it comes to giving you a quote. Other companies will charge a high price when that may not be necessary. There are factors to consider. 
Factors such as how dirty are the windows, how long has it been since there has been a window cleaning. If it has been such a long time since your commercial building was clean then that may be a factor. 
We try as much as possible to try and keep the cost down for you. But it must be known that if you neglect these over a period of time it will take that much longer to remove the dirt and grime all for the windows. So therefore keep this in mind when we do give you a quote and try not to get overly excited. As a matter of fact our window washing services for commercials have a good reputation of doing top quality work. 
MAY BE HARD TO UNDERSTAND 
COMMERCIAL WINDOW CLEANING
.
We can remove stubborn stains off of windows safely while not damaging your commercial windows. We have a crew of others who have been doing so for over 30 plus years. Rest assured you are in the safest hands possible. 
Providing you with the safest possible course of action when it comes to commercial window cleanings. Not failing to mention as well is that we are covered with our insurance putting your mind at ease. 
These are just some of the concerns that most individuals who hire a company to come and do window cleaning for their commercial. Our insurance can cover you and us at the same time. We have been trained in all the dealings of commercials. 
Why not go to our website and notice what others say about the fine quality of work that we do. What we say.
And when you're there look at the pictures they also speak for themselves. And if you can be so kind go ahead and fill out a form to have us come by and give you a free estimate or quote. 
That may be the last time you ever have to check and find a Window Cleaning Company Houston. We are resolved to do all that we can to accomplish just what you need. 
BRINGING A SHINE LIKE NO OTHER!
By living in Houston you know as well as we do that the weather changes quite often. 
Once you have a window cleaning service with us your windows will maintain their shine for over a year. But we don't want you to wait that long to have another regular maintenance program. Call us at (832) 639-3434 we are anxious to try to help you in this regard.
Imagine if you will for a moment. You have many tenants in your commercial building and they look out the windows constantly every day. What do they see when they look out their windows? Do they see that you have it all taken care of with clean windows? 
Or do they complain that they pay for rental services and yet they can't see out their windows. How frustrating it would be for you if they complain this way. We would like to help in that regard so please give us a call and that's one less thing you have to worry about. 
Once you have your windows clean just think how they look forward to coming to work. No doubt some of your tenants do have their windows cleaned at their home. And they probably are asking the same thing that we ask. 
If they got their windows cleaned at home then why can't someone clean them at their commercial building. 
Now that makes sense since we all like to live in a clean environment. Next it just feels like the right thing to do because they pay for a building that says something about how they work. 
And when the commercial building windows look good it makes them happy that they rent from you.
TAKE YOUR TIME.
The next time you have a corporate meeting why not bring this up in a discussion? When you do have this discussion be ready to let them know you have found just what they are looking for. Commercial Window Cleaning with Window Cleaning Company Houston. Just think they probably will think you're the smartest person in the room. 
And you are if you called us and had us come out and give you a free quote. In most cases we can get started right away with the services. We will be happy to schedule as soon as possible barring weather conditions. 
THE WEATHER IS UNPREDICTABLE.
The weather in Houston is very unpredictable but we as a company are very predictable. When we start a project we do so from start to finish. And if the weather is not so favorable we can postpone until it's safe for our workers and you. 
Don't hesitate to go ahead and make that call or go online and fill out a form to get started right away. You're proud of your company and so are we. You want to give your company the best and we want to give you the best in Commercial Window Cleaning. Exterior window cleaning will add so much to a commercial building. 
And although it's difficult to try and find just who can do so. Remember Window Cleaning Company Houston is there for you. We handle your window cleaning needs with such care and concern and understanding. 
LASTLY.
Giving you the overall scope of just what it will take for us to clean your windows and letting you know how long it will take. If for any reason you have questions or concerns, reach out to us. In the meantime you can find us on Google and most of the major search engines. 
Of course by typing in Commercial Window Cleaning you'll see we show up on the first page.
Running a business is hard work. Between keeping your employees on track, and day to day tasks, things can be hectic. A large chunk of time even goes to getting new clients and customers in the door. You don't have the time to think about clinging your windows, much less clean them. You're already wearing multiple hats, and window cleaning shouldn't be another one in the hatbox.
However, dirty windows can distract from a business and its services. Having a pristine business is one thing that will keep customers and clients returning. To help you in this endeavor, we have an affordable commercial cleaning service. Allow us to take care of your window cleaning needs so you can get back to running your business.
COMMERCIAL WINDOW CLEANING IN
HOUSTON
Our family-owned business can help you get the results you need for your company to thrive. For more than 20 years, we have been working diligently to keep companies all over Houston, Texas looking as sharp as their services. After all the work you have put into running your business, you deserve a building that reflects that.
We can help you keep your windows maintained seasonally. As the weather changes, windows will gain dirt. And if the dirt is left for too long, it can cause damage. By keeping the windows clean, you will increase their longevity. Window repair can be costly, and the construction could cause customers to wonder if you are even open. Avoid all that with our affordable Commercial Window Cleaning services.
With our professional team and their equipment, we will make sure it never gets to that point. We have the latest equipment that will provide you with those perfectly cleaned windows. Our equipment also allows us to work safely and efficiently to get those hard to reach spots.
Are you worried about the environment? We are too! That is why we use eco-friendly soaps. Unlike some window cleaning services, we want to keep our earth healthy and safe. With our eco-friendly soaps, you won't have to worry about the plants around your building. We'll make sure they are as healthy and happy as they were before the window cleaning. After all, landscaping is a part of the aesthetics of your building.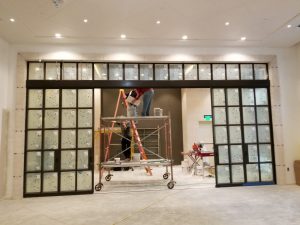 COMMERCIAL WINDOW CLEANING
By hiring us as your commercial window cleaning in Houston, Texas, you will have more time for yourself. You can spend more time with your family instead of worrying about your business.
Cleaning windows isn't just about your customers and clients. It's about you! Having a corner office with a view is great. That is. If you can see out of it. With our extensive experience and effective equipment, we'll get you that envious view.
Not only will you be able to enjoy it, but your business meeting will be breathtaking. Give your clients and employees a view that screams success. By giving us a call today at (832) 639-3434, we can give you that jaw-dropping view. We'll also offer you a free estimate. With a quick look at your building, we can determine how long it will take to get the job done.
Our equipment helps us clean those hard to reach spots. With our safe and efficient methods, we'll get those windows cleaned in no time. Having a sharp-looking high rise can be expensive and a lot of work. However, with our help and affordable services, effort and budget won't be a problem. We have an insured and licensed team to provide you with the best window cleaning services.
Not only will your view be envied, but our services will become a coveted asset to your company. Our upbeat and friendly team will bring joy and enthusiasm to the workplace. As a family-owned business, we pride ourselves on making our clients a part of the family.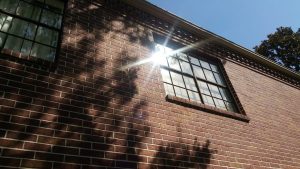 COMMERCIAL WINDOW CLEANING IN HOUSTON
Hiring a professional for your high-rise windows is a must. Reaching the top floor on a skyscraper is a dangerous task. Our professional team is insured and licensed, so you won't have to worry. Not only that, but we have years of experience and top-grade equipment to help us achieve that quality shine.
Our tools and eco-friendly soaps will help us to remove anything. Hard water spots, pollen, and dust are a thing of the past. Our services will keep your windows shining bright like your company.
Skyscrapers are hard to construct but easy to tear down. Age and dirt can accumulate on the windows and in the corners of the structure. This dirt will eat away at the building, eventually breaking it down into disrepair. Through window cleaning, you can protect your building from expensive repairs.  Call for your free estimate. We would love for the opportunity to see your building and how we can best serve you.
Our Window Cleaning Company Houston is dedicated to give you the best results. Our goal is to provide 100 percent satisfaction to our clients. You can ask us any question, and we'll give you an answer that will put your mind at ease.
No job is too big for us to do. We got you covered whether your business is in a high-rise or you have a one-story shop. Either way, we have the experience, the equipment, and the information needed to help us achieve a quality shine.
Your business and property matters to us. We want to offer you high-quality, affordable services that will leave your building with an impressive glow. Never settle for 2nd best. We offer quality services at an affordable price. This is why our reputation precedes us in the best ways. We are the best at what we do. Let us be your Houston, Texas window commercial window cleaning company. Give us a call today at (832) 639-3434
Email
window@windowcleaningcompanyhouston.com
Address
Window Cleaning Company Houston
2865 Westhollow Dr #54
Houston, TX 77082